When:
2023-03-08T00:00:00-03:30
2023-03-09T00:00:00-03:30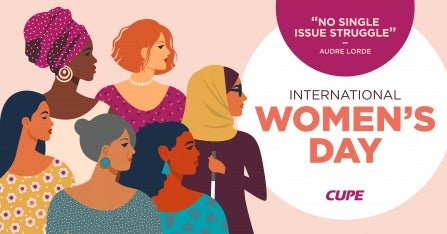 https://cupe.ca/event/international-womens-day
In case you are not aware of this day, it is a day of solidarity to highlight women's struggle for equality, for a gender equal world. Celebrated yearly on March 8.
It helps to celebrate women's achievements and increasing visibility, while calling out inequality. It marks a call to action for accelerating  women's equality worldwide, as IWD is not country, group or organization specific.
This is event below is applicable to our members on the St. John's campus.
Please see the attachment for full details, but there will be an early morning meet and greet to celebrate International Women's Day. Enjoy hot beverages and treats while making a donation of new personal items (menstrual products, toiletries, socks etc) to be donated to a local women's shelter.
This event is supported by the Federation of Labour and the Canadian Labour Congress and was sent from the CUPE provincial office.
Date: March 8, 2023
Time: 7:30 am – 9:30 am
Location:  NAPE Building, 330 Portugal Cove Place